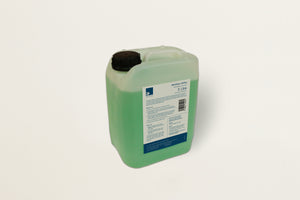 AltroClean™  44 Plus
Alkaline floor cleaner
5 Litres
Product description
Remove heavy surface soiling with ease using AltroClean 44 Plus high-performance cleaner.
An enhanced cleaning solution for Altro safety flooring – AltroClean 44 Plus is uniquely formulated to remove grease, tough ground-in dirt and other stubborn contaminants in areas, which may have become heavily soiled.
As this is an alkaline cleaner, it will clean more effectively than neutral, more commonly found cleaners do in areas that are prone to these types of dirt and grease. If heavy soiling could compromise your floor's appearance and performance, you can use AltroClean 44 Plus to perform a deep clean and follow this up with AltroClean 44 for more regular, on-going cleaning.
You can also use AltroClean 44 Plus to remove pre-existing floor polish and coatings with a higher concentration.
Frequently asked questions
Where and when can I use AltroClean 44 Plus?
Use it in areas with heavy soiling as part of an initial or restorative cleaning regime, before maintaining the area long-term with AltroClean 44.
What type of cleaner is AltroClean 44 Plus?
AltroClean 44 Plus is a specially formulated alkaline solution created for cleaning Altro safety flooring and removing stubborn contaminants such as grease, dirt and grime that can evade common cleaning solutions.
Does AltroClean 44 Plus emit any harmful VOCs?
AltroClean 44 Plus is entirely safe for use in public areas, including corridors, circulation areas and workspaces open to employees and staff. It does not emit any VOCs and will not create a residual health hazard.
What is the dilution rate for AltroClean 44 Plus?
Dilution rates for AltroClean 44 Plus depend on the floor's condition. Recommended dilution rates are on the product label and datasheet – but for guidance, as this is a concentrated product, you only need a 1:140 dilution ratio for moderate soiling and for heavy soiling use a 1:35 dilution.
How do you use AltroClean 44 Plus?
It's really important to get your dilution right and follow recommended cleaning methods. We've produced some short videos on how to clean our floors to share our top tips with you.
https://www.altro.co.uk/Support/Videos/Cleaning-guides/Mechanically-cleaning-vinyl-flooring-Animated-guide
What cleaning equipment is recommended with this product?
Altro UniPad for hand mops and machines
What other products are in the range?
Health and safety
Before using this product, please refer to the SDS, (Safety Data Sheet) for correct safety guidance and to determine the appropriate level of PPE (Personal Protective Equipment) and RPE (Respiratory Protective Equipment) that are required. 
Always carry out a COSHH (Control of Substances Hazardous to Health) assessment and risk assessment before using this product.
Where can I find out more technical information?
If you have any queries please call our Customer Care Centre on 01462 489516.
Download the datasheet AltroClean 44 Plus